FROM THE CHAIRMAN
Smokers seem to be unique in incurring the wrath of all government. Whether it is local councils bullying pubs because their smoking area is 1mm too long, national governments passing more and more laws, or the EU passing Big Pharma inspired directives. Of course most oppression originates from the unelected World Health Organization. They have just finished the Conference of the Parties 5 (COP5) in Seoul, South Korea, from November 12th-17th.
Among the pearls of wisdom was to stamp out the trade in illegal tobacco, and then call for higher taxes on tobacco. It also wants to stop farmers from cultivating tobacco. African farmers are particularly reliant on tobacco as a cash crop, in fact 30 million Africans are dependent. If these directives are successfully implemented there is no doubt that people from some of the world's poorest areas will die.
But then tobacco control has never been about health.
Dave Atherton, November 2012.
---
PLAIN PACKAGING PLOT THICKENS
The Plain Packaging consultation rumbles on more than three months after its closing date with both sides accusing the other of forging signatures to boost support. E-mails released by the Dept of Health in answer to Freedom of Information requests include that of a zealous Research Fellow with the Dept of Tobacco Control Studies who suggests that fellow anti-tobacco activists might like to sign up to several petitions to 'get your money's worth!'.
Meanwhile, correspondence between Forest's Simon Clark and the DoH describes the extent to which multiple sign-ups occurred in the Hands Off Our Packs (HOOPS) Campaign.
For the overall picture, read Angela Harbutt, the HOOPS Campaign manager, for an excellent summary of events.
Dick Puddlecote details the unfolding story, with added tweets.
From the horse's mouth – Simon Clark's story.
The list of released documents is here.
Although currently overshadowed by the major topic of forging signatures, Dept of Health correspondence throws up a few little surprises. Jay of Nannying Tyrants has been walking us through the extent of cross-promotion between the major pro-PP players and finds evidence of that slippery slope in action.
Of special interest is ex Health Minister Anne Milton's letter to Stephen Williams of the All Parliamentary Party Group on Smoking and Health, dated Dec. 2011: " We would like to see smoking in home and cars where children are present eradicated. The key question is what is the most appropriate and workable way of achieving this."
Please note: a large number of documents have been released into the public domain. Jay is currently wading through them, but would appreciate a few hours from anyone who may be able to help. Contact him here.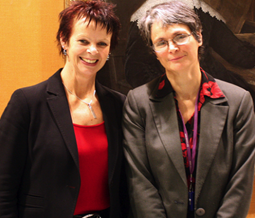 Mentioning the ex Health Minister Anne Milton gives us a chance to publish this photograph again.
Lest we forget...
---
THE FAMOUS F2C CHRISTMAS COMPETITION
Every year F2C runs a lighthearted Christmas Competition for the members of the F2C Forum.
This year there is a prize of a £15 Tesco Voucher, and a further mystery prize to the same value, making a total value of £30 to the winner.
The competition is run every year by our enigmatic F2C member known only as 'B7'. He writes:
"The gift card should be enough for a turkey and a few bags of spuds and a tin of evaporated milk, but you will have to await the joys of the mystery prize."
So, what 's this year's challenge from B7?
THE CHALLENGE
B7 says: "We have all heard the recent slogans and relabelling of the months of the year by those nasty fake charity types. Good examples of this are the antis' Stoptober nonsense, and now the Dry January promotion."
"Your challenge is to enter alternative slogans for one or all of the months of the year. All you have to do is post up a caption / label on the F2C Forum. Everyone can enter including paid-up members and ordinary Forum members: this is just a fun competition. Each entry is based on a month of the year January to December,but other original entries will be accepted.We already have 'Octabber', and a few early entries from forum members include 'Dissember' (refuting the junk science) and 'Joynuary' (celebrating the joy of drinking)".
B7's own suggestion is: 'Septyranny' (for those subject to anti-smoking or other oppression in September). Lol...
He continues:
"The maximum number of entries is 12 entries/posts per individual. One individual post on the Forum can contain as many bits of information as you wish but will still only count as one entry. You are free to provide combined Graphic entries: these also count as one entry.
Keep all entries clean and fun in the true tradition of F2C.
Who knows: your caption / labels etc may be adopted in the media and become synonymous with your thoughts!"
CLOSING DATE
Closing date for the competition is at midnight (24.00 UK time) on Friday 7th December 2012. Each entrant will be given a number starting at one, all in the order of posting answers on the Forum.
The prize winner will be drawn using the random number generator at http://www.random.org/integers/ , and the result posted up in the Forum on Monday 10th December 2012.
HOW TO ENTER
If you are already a F2C Forum member, simply log in and go to the post here to make your replies.
If not, register for free on the Forum here (you can choose a username to remain as enigmatic as B7).
GOOD LUCK! We'll publish the best entries and the username of the winner in December's Newsletter.