FROM THE CHAIRMAN
Summer is over and those smokers who were tempted to visit the pub on a warmer day now have their minds made up for them.
The good news is that plans to introduce minimum priced alcohol seem dead in the water, thanks to the European Union, and smokers can drink at home with a clearer, cheaper conscience.
The British Beer and Pub Association say that 6,000 pubs, 25 a week, are predicted to be closing in the next 5 years and the one factor that could stem or even reverse the closures - ventilated smoking rooms - is not even on the agenda. The Scottish petition (see news article below) asks for a review of the regulations in the light of research information on modern methods of ventilation.
My 2 bottles for £8 of Echo Falls, sipped at home with the central heating on, seem a far better prospect than £3.20 a pint in the freezing cold.
Dave Atherton, October 2012
Not outdoor smoking weather...
---
ANDREW LANSLEY and ANNE MILTON SACKED
In a Government reshuffle last month, Andrew Lansley (Health Secretary) and Anne Milton (Public Health Minister) were sacked and replaced by Jeremy Hunt, who voted against the 2007 smoking ban, and Anna Soubry, a newcomer to the House of Commons.
Never again will we have the pleasure of seeing this picture: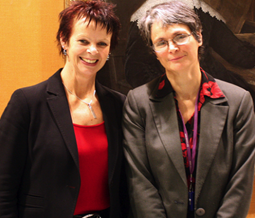 Anne Milton and Deborah Arnott: friends no more
---
THE SCOTTISH PETITION
It's not too late to sign PE 01451, Petition to the Scottish Parliament review of smoking ban (open for signatures until 22 October).
You don't have to live in Scotland to sign it.
This petition is put forward by Freedom to Choose (Scotland). It points out the problem of ambient air pollution in everyday environments, which should be the real focus of any concern for clean air. Making a huge fuss about the alleged dangers of secondary smoke and then applying the smoking ban, is a sop, leading people to believe that the problem of ambient pollution no longer exists, meanwhile ruining many recreational venues and disrupting social lives. Challenge the nonsense that there is 'no safe level of secondary smoke'. Read more here.
---
STOPTOBER and the OCTABBER REVOLUTION
It's bad pun month...
The Government spent lots of money running a campaign - 'Stoptober' - to get smokers to quit for the month of October. Unfortunately, according to recent research, most smokers are ignoring the campaign.
Pat Nurse and other pro-choicers fought back with 'Octabber'. Read all about it here.
---
F2C AGM and COMMITTEE 2012-13
A very successful and lively AGM was held in London on 1 September.
Members of the Executive Committee elected for 2012-13 are: Dave Atherton (Chairman), David Bunn, Carol Cattell (Secretary), Belinda Cunnison (Treasurer), Andy Davis, Pete Jackson (Membership Secretary), Tony Ward, and John Watson.
Below is a picture of some of the AGM attendees taking a break from business.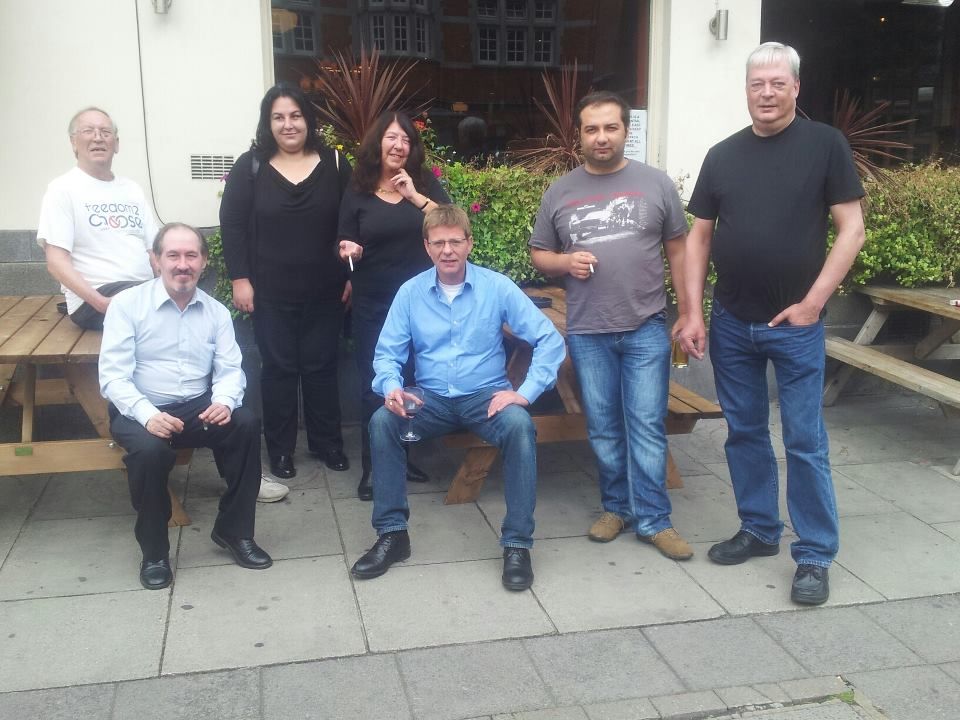 Beware Greeks bearing .gifs (in-joke)